THE LT 4x4 BY VOLKSWAGEN
In 1983 VW gave the LT a facelift and prepared the arrival of th LT 4x4 from Vw giving the instrumentation lights for front, center and rear differential locks.
In 1985 VW took over the production of the 4x4 LT's and introduced the DW (2.4 inline-6 N/A diesel) and DV (2.4 inline-6 turbo-diesel) engines to the portfolio. The model portfolio covered only long wheel base vehicles. Tintop and hightop as LT40, pickup and double-cab as LT40 or LT45. I have no exact production numbers but it is said to be between 1200 and 1300 LT's.
In 1988 Peter Seikel from Seikel Motorsport, participated at the Dakar Rallye with this doka :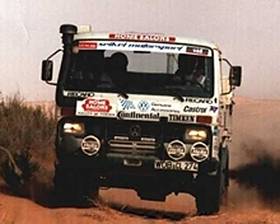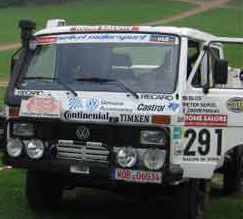 In 1991 the naturally aspirated diesel engine was dropped from the 4x4 program. So was the tintop variant. Front differential lock now became factory standard also and the transfer box was upgraded to the New Process 241.
Production ended in 1995.
VW LT 4x4 's have this logo front left and right :