SCAM SELLERS
Using Busman's services to buy a car for you not only protects you from buying a car that is not at all as described, it also might keep you from buying a non existing car !
Here's an example of a typical scam advert :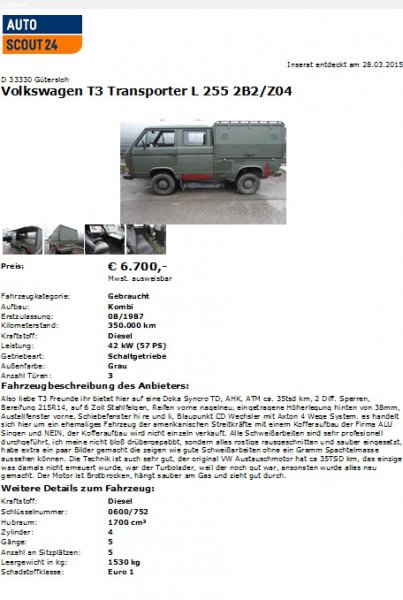 Diesel syncro's only came with the 1600 TD engine with 70 HP. This ghost car is supposed to have a 1700 cc diesel engine with 57 HP.
I send the guy a mail inquiring about the car, here's what he writes :
Guten Tag,
Ich habe bemerkt, dass Sie an meinem Auto interessiert sind. Ich habe die Anzeige für das Auto gemacht, als ich in Deutschland lebte und arbeitete. Jetzt ist es in Bialystok, Polen, doch noch in Deutschland registriert. Ich bin jetzt nachhause zu meiner Frau zurückgekehrt um mit ihrem Immobiliengeschäft zu helfen, nachdem unser erstes Kind geboren wurde, weshalb ich das Geschäft übernehmen musste.
Nach Deutschland zu kommen ist für mich nicht möglich. Wenn Sie Interesse haben, können wir die Dienste eines Transportunternehmens nutzen, das mir von einem dänischen Freund empfohlen wurde, der sein Auto von Deutschland nach Dänemark transportierte. Es ist ein internationales Unternehmen mit Sitz in Dänemark und operiert in ganz Europa.
Dieses Unternehmen wird das Auto bei Ihnen zuhause abliefern mit der Gelegenheit es für 5 Tage zu testen und ich werde dann alle Versandkosten übernehmen, wenn Sie interessiert sind.
Wenn Sie die Vorgehensweise wissen möchten oder Fragen über das Auto haben, lassen Sie es mich bitte wissen.
PS: Ich bin Pole, entschuldigen Sie also bitte mein schlechtes Deutsch. Lassen Sie mich wissen, ob es möglich ist eine andere üblichere Sprache zu verwenden.
Mit freundlichen Grüßen,
Eliasz Borkowski

translated :
Hi,
I noticed you are interested in my car. I made the advertising for the car when i was living and working in Germany Now the car is in Bialystok, Poland, but still registered in Germany. No I moved back to my wife to help her with her real estate company. Now that our child is born i had to overtake the business.
It is not possible for me to come to Germany. When you are interested we can use the services of a transportation company which was recommanded by a friend of mine who had his car transported to Denmark. It's an international company situated in Denmark and operating in the whole of Europe.
This company will deliver the car at your place and will give you the oppertunity to test it for 5 days and I will pay for the transport costs when you are interested.
If you want to know the details of how this works or if you have questions about the car, please let me know.
PS : I am Polish, please excuse me for my bad German. Let me know if it is possible to use another language.
Regards,
Eliasz Borkowski
Here's where he stole the pictures from :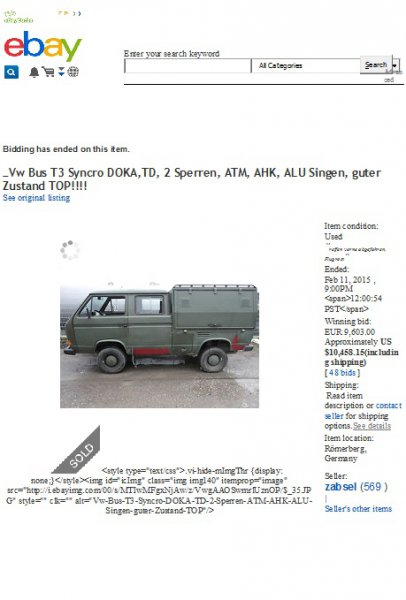 FAKE BUYERS
Next to fake sellers, there's also fake buyers. So also if you sell a vehicle, it's a good idea to work with Busman !
The cheque trick :
Some "buyers" will work this way : you sell e.g. a car for € 5000. The "buyer says he's interested in "your vehicle" (they are too lazy to even ask for "your syncro" and they say they want to buy it. They send you a chewue for e.g. 9000 euro instead of 5000 and ask you to pay the balance in cash to their driver. So you receive the cheque, you go to the bank and collect the money. Then the driver comes, he loads the car, you pay him the balance and he's off. Two weeks later the problems start : the cheque you got was from a bank with which banks in your counry have no direct liines. It takes about two weeks before they know if there is money on the foreign account or not. Off course it will prove there is no money. Result : your car is gone AND you have to pay back 9000 euro to the bank !
the paypal trick :
Same shit can happen when you work with paypal. Paypal protects the rights of the buyer.When you sell something and have yourself paid by paypal, you have zero protection. A buyer can buy a car from you and pay with paypal. Two days later he can simply say to paypal he didn't get the car or the car is crap and paypal will 100% refund the money to the buyer. Since your paypal is linked to your Visa card or bank account, Paypal will simply withdraw the disputed amount of money from your account. So your car is gone and you have no money !
Here's an example of a scam buyer's mail.
Feel free to send spam mail to this so called Jimmy Wood !

Fra: Jimmy Wood
Dato: 10. apr. 2015 kl. 15.48.37 CEST
Til: the seller (name censured)
Emne: Vedr.: Syncro
I agree with the price and i'm satisfied with the condition too. I am buying it internationally to USA but I am a citizen of Netherlands as you can see in my name and i would pay you through PayPal as it is the fastest & easiest way for me to make payment at this moment, do not worry about paypal charges, i will take care of that and about the transportation, i shall arrange for a transport agent to come to your home directly for the pickup.So if you accept this transaction, you should send me your info requested below if you have an account already with paypal:-
Name :
PayPal Email :
Mobile Number
or you should send me a PayPal money request, so that i can proceed with the transfer and then we can arrange for my
transport agent to come for the pick up, after you receive your money. I will need your home address too for the pick up to be arranged.
i expect your reply soon
On Fri, Apr 10, 2015 at 2:44 PM, seller (name censored) wrote:
Sorry
I have the car for 2 years
49000 DKK is my Price
Rust the normal places in the connections
Busman have pics
Sendt fra min iPhone
Den 10/04/2015 kl. 15.23 skrev Jimmy Wood :
Hi, I am interested in buying it and i would like to get it as soon as i can. i would appreciate if you can answer the few
questions below:
what is the final price for it?
How long have you owned it?
I won't be able to view it but can you guarantee me it is in a good condition?
Sorry about the too much of question. I hope to hear from you soon, and i will make all transportation preparations for it
to be transported to my home in USA.If possible can you send me some recent picture of it?
Thanks

So use Busman's buy it for you service to make sure these crooks don't get you :-) !